French Learning in Year 6 – Pullman & Rowling
Autumn term – Language content
Numbers 1-100
Using c'est
Shapes – un rectangle, un cercle, un triangle
Colours
Le/la/l'/les
---
Week commencing 14/10/19
Complete colour poems and give pupils time time to present their work. This can be recorded for Mrs Samuels.
Week commencing 07/10/19 – Colours and Poetry
Read the poem the below with pupils. Provide pupils with the French dictionaries (Mrs Samuels has the dictionaries). Give pupils a chance to translate the poem. Remind them that they know the colours, so they just need to look up the nouns at end of the sentence.
Comme – mean like / as
Each line of the poem is a simile in French.
Explain to pupils that next week they will plan and write their own colour poem.
Week commencing 30/09/19 – Les Formes
Pupils will use French dictionaries to look up nouns for different shapes in French. Mrs Samuels has the dictionaries. Pupils can also use wordreference.com. They must record whether the noun is masculine or feminine.
Week commencing 23/09/19 – Les Couleurs
Recap the objects that pupils looked at last week.
Introduce colours in French. Pupils can record the table below in their books. Talk about how the spellings of a colour usually changes depending on whether the noun in masculine or feminine. Look at the colours that do not fit the rule.
Look at the rule below with pupils.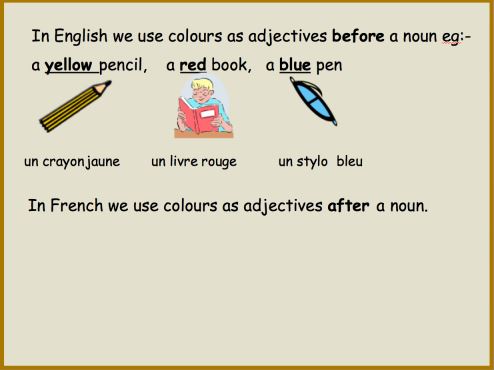 Pupils to answer the question 'c'est de quelle couleur?' This means what colour it is? Remind pupils to refer back to the colour grid so they are using the correct spelling of the colour. There are two examples below.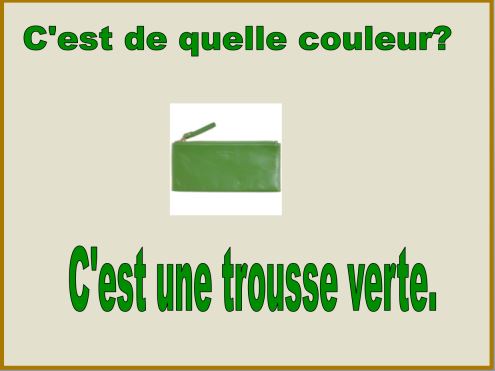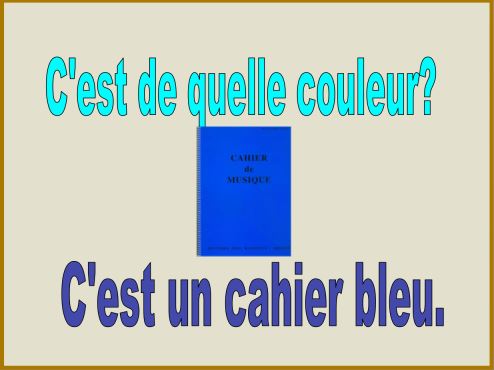 Challenge 1 – Write 5 sentences
Challenge 2 – Write 7 sentences
Challenge 3 – Write 12 sentences
Week commencing the 16/09/19 – Dans la classe (In the Classroom)
Continue revising numbers. Refer to the resources from last week.
Explain to pupils that nouns in French are either masculine or feminine. The link below helps to explain this.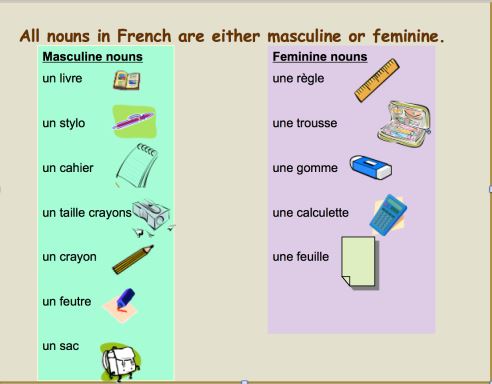 Record this vocabulary in your French books.
Take a whole page.
Include images.
Ideas for consolidation
Bingo – pupils write the English and the teacher reads the French
Point to each image and give pupils two options in French.
Get pupils to revise the words in the pairs.
Ideas for stretch and challenge
Pupils to look up extra words to add to each column. Mrs Samuels has the French dictionaries.
Week commencing 09/09/19
1- Explore the two links below
https://www.woodwardfrench.com/lesson/numbers-from-1-to-100-in-french/
https://quizlet.com/996950/french-numbers-1-100-flash-cards/
2- Learn the song below. Spend time going over this.